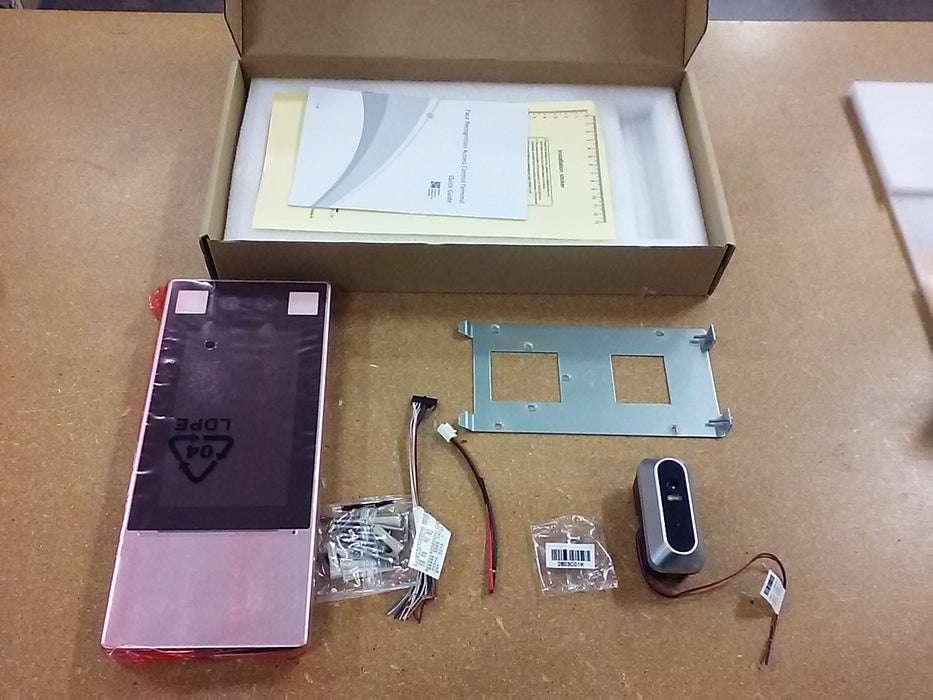 Uniview Face Recognition Access Control Terminal with Wrist Temperature and Mask Detection (OET-213H-BTS1)
 Good condition! Slightly used, Has accessories!! DOES NOT COME WITH STAND FOR FACIAL RECOGNITION. Comes with wrist detection monitor. 
Meet Uniview's unique facial recognition panel for access control! Its features include facial recognition, mask detection, body temperature readings, and more. With an elegant 7" LCD display, intuitive user interface, and customizable options, this panel is as attractive as it is functional.
Unique Access Control Terminal with 7" LCD Screen that includes facial recognition, mask detection, and body temperature readings
Contactless body temperature measurement is done by holding up wrist 1-3cm away from sensor
Check for abnormal body temperatures of people entering the premises. Use as a standalone device to simply be notified when an abnormal temperature is detected. Or use as an access control device to grant or deny access through a door altogether.
Mask detection - Choose whether you want the panel to recognize if a person is wearing a mask or not.
Deep learning Facial Recognition algorithm model based on UNV independent intellectual property rights. Face recognition accuracy rate >99%, false rate <1%
Choose whether to use Facial Recognition and Body Temperature detection by themselves or combine them together for multi-level authentication
Device is networkable and is accessible via an IP address similar to an IP camera. Devices camera is Onvif compliant and video feed can be passed on to 3rd party recorders.
4GB of built-in storage