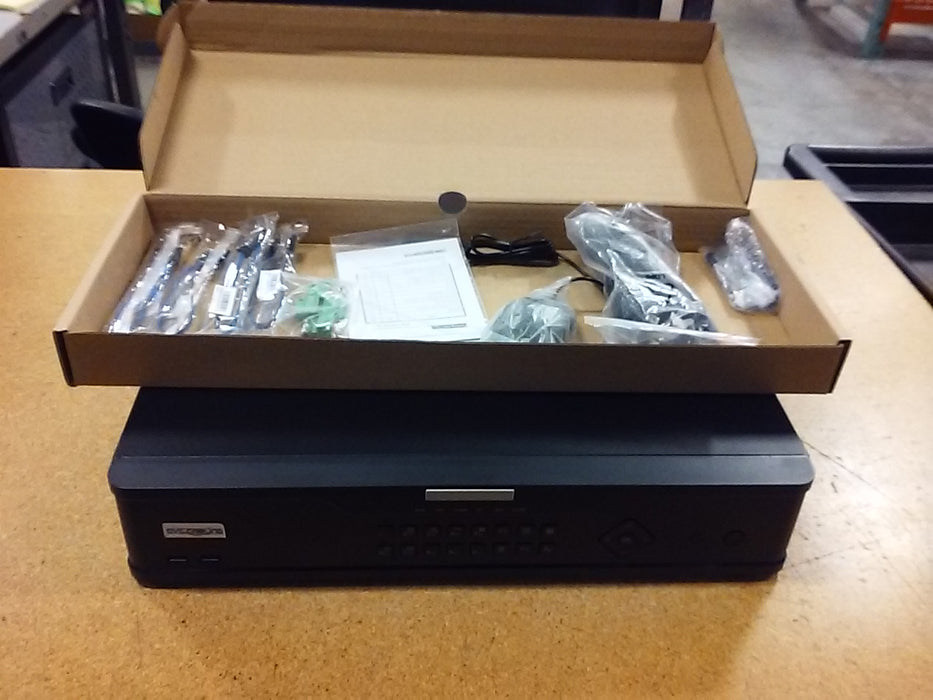 2MP 16-Channel NDAA-Compliant IP Network Video Recorder with 4 SATA Hard Drive Bays and RAID Data Protection (UNVR16X)
Great condition, unused, has accessories. NVR is branded.
Video recorders are the heart of your cctv system. With the UNVR16X you can be sure that your security cameras are in good hands. This IP video recorder is perfect for medium-large installations with up to 16 security cameras.
The UNVR16X is just what your system needs to ensure fast, powerful, and reliable surveillance 24/7.
Please note, this recorder does not have an integrated PoE switch.
RECORDING SCHEDULES
If you want 24/7 video recording, the UNVR16X NVR is a great choice. You can rest assured that your surveillance system never misses a moment with it's ability to add 4 Hard Drive/s, Up to 10TB each.
You can also setup custom recording schedules based on days and times of the week, or based on events such as motion detection.
NDAA COMPLIANT
This model is compliant with the NDAA (National Defense Authorization Act), meaning it's safe to use and install on U.S. government properties. It was constructed with trusted and reliable technology at its core.
LOCAL & REMOTE VIEWING
This NVR can be used with or without being connected to the Internet. You can view your NVR locally by connecting it to any HD-TV or monitor. If connected to the internet, you are also able to view your NVR remotely by downloading the following app to your smart device.