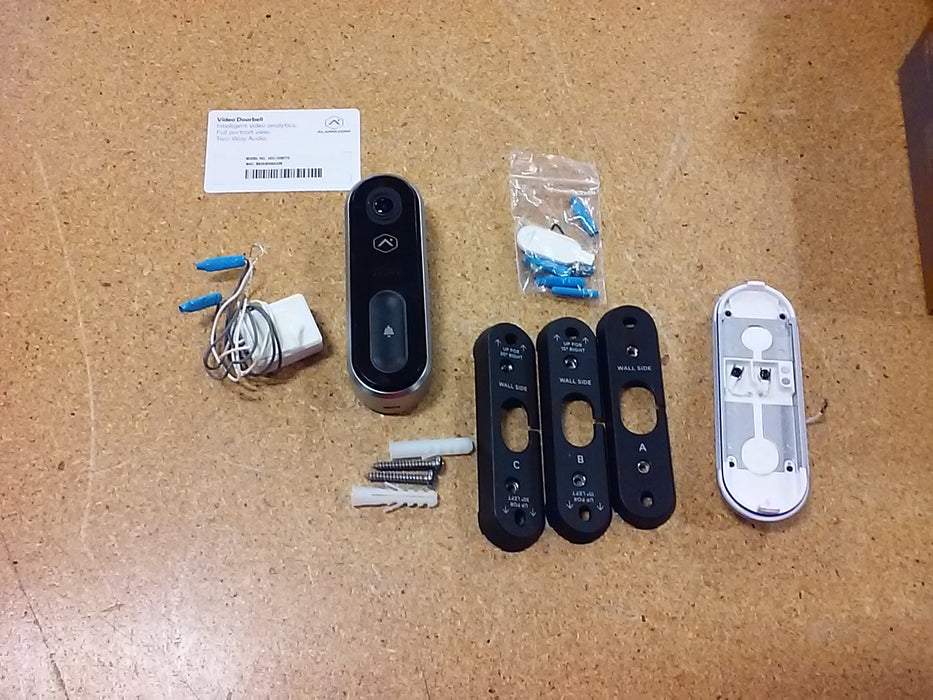 ADC FullHD 2MP Intelligent Video Doorbell IP Security Camera - Silver (ADC-VDB770-S)
 Good condition, used, has accessories. Doorbell has scratches on front. Doorbell could possibly be tied to an account. 
 Device Type: Video Doorbell Camera
Compatibility: Each ADC-VDB770 counts as one camera when used with a full video plan. A single doorbell option with Video Analytics is available for otherwise non-video customers.
Video Resolution: 1440x1920 Full HD
Field of View (FoV): 150° Vertical, 115° Horizontal
Image Sensor: 1/2.7" CMOS, 5 MP, 1440 X 1920
High Dynamic Range (HDR): Yes
IR Night Vision: 15 Feet
Low-Light Sensitivity: 0 lux w/ IR
Image Adjustments: Flip, Brightness, Contrast, Saturation, Sharpness, Exposure
Recording Compression: H.264
Motion Detection: Yes (through Alarm.com Video Analytics)
Two-Way Audio: Yes
ADC Video Analytics: Yes
Clip Viewing: ADC app & website
WIFI Connectivity: Yes (Optional WPS Pairing, 2x2 Antennas)
Access Point: Yes (used to configure WIFI in lieu of WPS)
WIFI Specs: 802.11 b/g/n, 2.4 GHz or 5 GHz
Power Requirements: 16-30VAC, 10VA OR 15-30VDC, 8W Minimum - Included Power Module Required
Chime Compatibility: Mechanical & Digital Chimes
Battery Heater: Yes (For Low-Temperature Operation)
Ingress Protection: IPX4
Included Accessories: Angled Mounting Wedges (Brackets A, B, and C), Power Module, Wire Connectors, Wire Extenders, 10 Watt 10 Ohm Resistor w/ 5% Tolerance
Dimensions: 5"L x 1.7"W x 1.5"D
Operating Temperature: -22°F to 104°F
Operating Humidity: 0 to 95%, Noncondensing Relative Humidity
This is a used product, so there might be some wear and tear. All used products on our garage sale have been tested for functionality, but it may not look exactly like the product in the picture. Also note that we cannot guarantee this will come with all of its original accessories. For more information about our used products, check out our
About Page
.