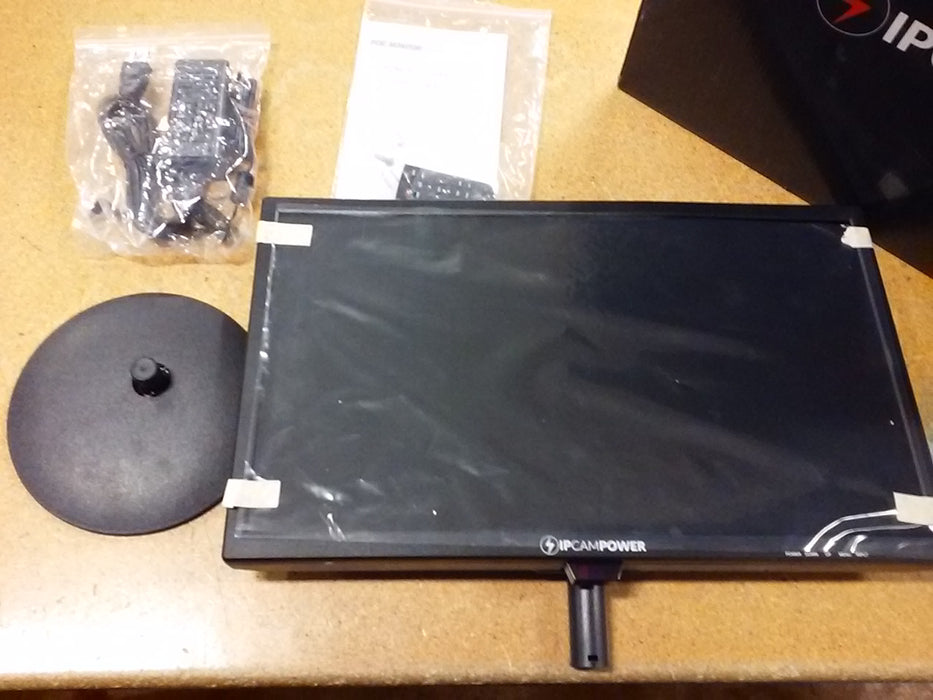 IPCamPower 21.5" PoE-Powered Monitor with a FullHD 1080p Resolution and a 12V DC Power Output
Great condition, slightly used, has accessories. 
IPCP-POEMONITOR
Finally, a PoE-powered monitor! That's right. This 21-and-a-half inch monitor can be powered with an Ethernet cable using Power over Ethernet. All you'll need to do is run a network cable to the monitor and use a PoE switch or injector for power. This is going to allow you to have up to 330 foot cable runs for your monitor. No more taking up space at your outlets or calling expensive electricians to extend your power connections.
Some of the other impressive specs on this monitor include a built in 12V DC output, LAN port, and a USB power output. Yes, we know that's a lot to wrap your head around. So let's break this down into a few specific case studies so you can see exactly what this monitor can do for you.
PoE In
With a PoE In connection, you can power your monitor using a PoE switch or injector. Yes, that means you can power your monitor with the PoE switch integrated into your NVR, making this ideal for any IP video surveillance setup.
LAN Out
With a LAN Out connection, you can use your monitor as a single-port switch. When it's connected to your network via PoE, it can connect one other networkable device to that same network. Are you starting to see how this is so much more than just a monitor?
12VDC In and Out
If you're not going to be powering your monitor with a PoE switch, that's okay. It does have a 12VDC power input and an included power supply. BUT when you are powering your device with PoE, this 12VDC input becomes an output, providing up to 1 amp of power to any 12VDC device.
USB Power Out
Lastly, you can use the USB port on this monitor to provide power to any USB-powered media device. Think Google Chromecast, or Amazon Firestick, or Roku. Usually you'd need an additional power outlet to power any of these devices, but not with this monitor.
SCENARIO 1
In this scenario, we have the monitor set up with a standard video surveillance system. Nothing fancy here. We simply have the monitor connected to the PoE switch integrated in the back of the NVR. We also have an HDMI cable connected to the monitor. In this setup, we only have one power cord running from an outlet to the NVR.
SCENARIO 2
Here's where things get really interesting. In this setup, we can have the monitor up to 100 feet away from the NVR. We're just using an HDMI extender balun to run the video through an Ethernet cable. We're also making use of the monitor's LAN and 12VDC out connections to power up a security camera near the monitor and connect it to the network. This prevents us from having to run a third Ethernet cable all the way back to the NVR site.
SCENARIO 3
In this final setup, we're not even using this monitor for CCTV. Instead, we just have this powered with a PoE switch. We're using an Amazon Firestick to stream anything we want. And since we have the firestick connected to the USB power output, there's still no need for an additional outlet here.
| | |
| --- | --- |
| Brand | IPCamPower |
| Resolution | FullHD 1080p |
| Power Supply | 12V DC (included); PoE+ (not inlcluded) |
| Video Input | (2) HDMI; (1) VGA |
| Audio Input | (1) Mic input |
| Audio Output | Built-in speakers |
| USB Output | Power output only |
| Diagonal Screen Size | 21.5" |
| Dimensions | 20" x 12" |
| PoE Requirements | PoE+ (30W) minimum; PoE++ (60W) recommended when using 12VDC power output |